IATA Transportation Crates
IATA Transportation Crates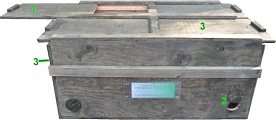 Why not buying well aligned and completely optimized things, that otherwise you had to laboriously construct by yourself.
We construct transportation crates for your "internal" transfers and for international animal exchange by IAATA standard.
From A (Anteater) to Z (Zebra) - we can offer you the perfectly customized cabin for every passenger.
Every crate will be constructed and built to your individual specifications (no bulk goods). Because of that you won't find special products or prices at our webshop.
You are welcome to send a quote request for your individual project.